If you frequent Monsarrat Avenue you've probably noticed the corner lot at 3116 being worked on. It's a new spot for espresso, coffee, gelato, and art called ARS Café by the owner of Pioneer Saloon—one of our favorite eateries—Nori Sakamoto. Before ARS opens its doors for business on March 31, I met up with Nori and artist John Koga to take a peak inside.
As Nori led us into the space just a couple of blocks away from Pioneer, I asked him what made him want to open ARS Café and his answer was surprising. "I've worked in the restaurant business for over 20 years but never worked in a coffee shop," replied Nori with a smile. "I now own a restaurant, but I cannot do it by myself. In the restaurant business you need a staff; you need employees. My employees, Roland and Hikaru have been working for me for a long time. A coffee shop is their dream so I want to give them the opportunity."
The space he is putting together 'for his employees' is exquisite, with dark wood paneling from floor to ceiling and black details to contrast. I got the feeling like I walked into a room from the past, as the sounds of a record from the '70s played through a vintage McIntosh receiver in the front corner. Nori mentions that he brought in a small team of craftsmen from Japan to build out the interior.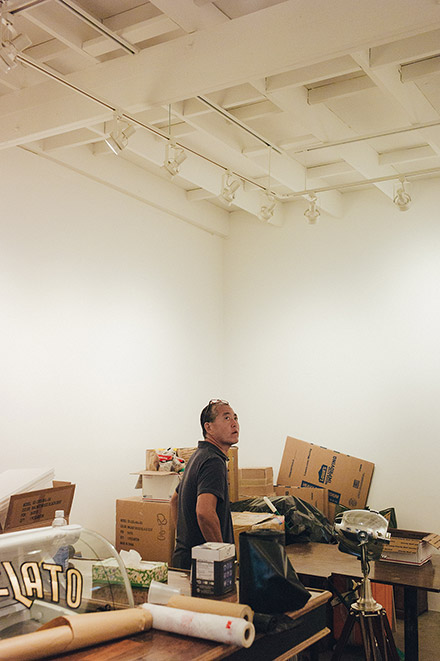 "I brought two skilled carpenters from Japan that specialize in making frames (for art). I have a variety of frames that are on the walls at Pioneer…that is their work. But sometimes they make interiors," explained Nori. "That guy [as he point to an artist painting the word 'breakfast' on a wood, cone-like display for the storefront] he is a sign painter in Japan. He specializes in hand painting stores, cars, everything. He's been here for one week. The other two have been here for three months."
As Nori looked toward the back of the space—where the walls are tall and kept clean and white—he mentioned that it's set up to be an art gallery. "Some people like to hang big TVs on their walls but I prefer art. I know that there aren't too many galleries here in Honolulu so hopefully this space can provide opportunities for local artists."
As we spoke about the gallery aspect of the space, I asked Koga about the artists that he has curated for ARS' debut exhibit and how he plans to help ARS in the future. "Nori was so kind to share the space and I'm honored to be a part of the first show along with Lawrence Seward, Jason Teraoka and AJ Feducia…a diverse group with good art," says Koga. "AJ is so humble and he is on fire with the product that he puts out. Jason is someone that I've worked with for years that hasn't shown anything in a while so I thought it would be fun to pull him out for this. We haven't done a show together in a long while. Lawrence, he's the kingpin, well respected here and in the New York art scene. Like I said, it's a very diverse group. In the future, I'm going to continue to see what artists we can bring in or introduce and keep the level of the arts that Nori wants. At this point we have Aaron Martin for the following exhibit."
If you're in Honolulu on the night of the 31st, stop by 3116 Monsarrat for the Grand Opening of ARS Café from 6-9PM with an art exhibit featuring the works of John Koga, Lawrence Seward, Jason Teraoka and AJ Feducia.