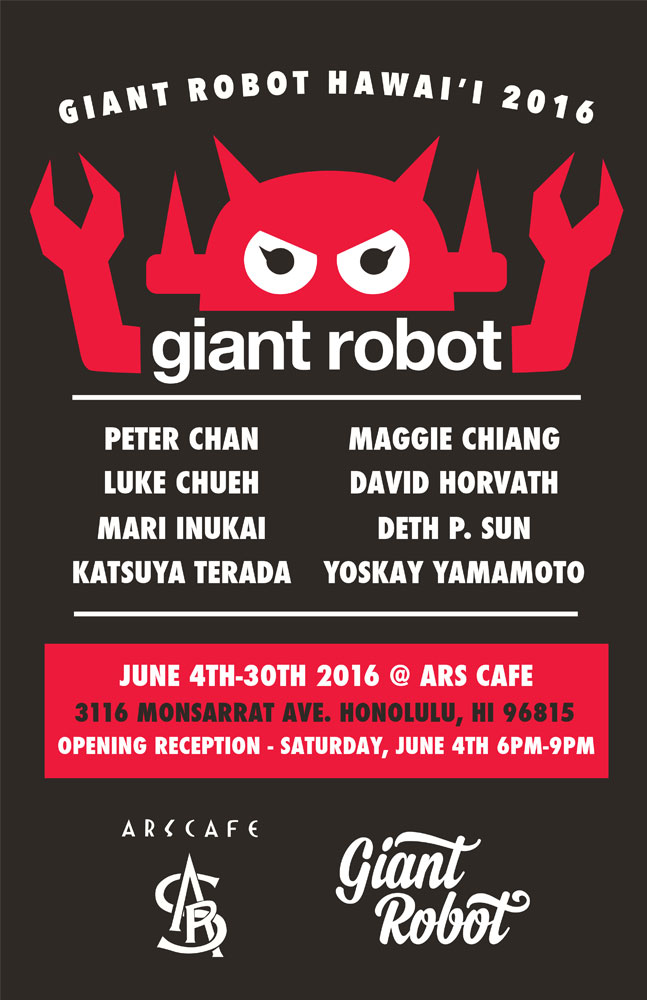 ARS Café and Giant Robot present: Giant Robot Hawai'i 2016
June 4th – 30th, 2016 @ ARS Café (3116 Monsarrat Ave. Honolulu, HI 96815)
Opening Reception Saturday June 4th, 2016 6-9pm
Giant Robot returns to Honolulu to celebrate Giant Robot Hawai'i 2016. Eric Nakamura, the owner of Giant Robot, presents a group art show personally curated for ARS Café. This show offers Honolulu a sampling of pieces from artists who regularly showcase at the Giant Robot store and GR2 art gallery in Sawtelle Japantown district of West Los Angeles. Giant Robot Hawai'I 2016 will feature works from Peter Chan, Maggie Chiang, Luke Chueh, David Horvath, Mari Inukai, Deth P. Sun, Katsuya Terada, and Yoskay Yamamoto.
Eric Nakamura and Luke Chueh will be in attendance at the June 4th opening reception.
The show will run through the end of June inside the ARS Cafe Gallery.
ARS Cafe is the third establishment Chef Nori Sakamoto has created in the Diamond Head area of O'ahu on Monsarrat Avenue. Following the success of Pioneer Saloon Hawai'I and Monsarrat Shave Ice, Chef Nori opened ARS Cafe in March of 2015.  ARS Café specializes in coffee, gelato, baked goods, sandwiches, and salads created by Chef Hikaru. The art gallery and cafe are open daily Monday through Saturday 6:00 AM to 4:00 PM and Sunday from 7:00 AM to 3:00 PM
The following day, on June 5th – join us at Pioneer Saloon for a Ramen Burger Party featuring Luke Chueh!